Click on the process below to view the company profile
ISO 9001:2015 Quality Certified
Our manufacture is a full-service custom plastic thermoformer and fabricator, providing turn-key solutions for original equipment manufacturers (OEMs). Production equipment includes; single station, rotary, and pressure formers to form large and deep parts up to 6'x11'x4'draws. Trimming operations include numerous three and five-axis CNC routers and robots. Our extensive capabilities of value-added operations include; die-cutting, heat-bending, painting, silk screening, color matching, and solvent welding, as well as turn-key component assemblies.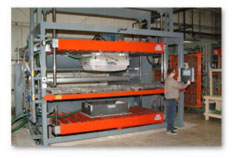 ISO 9001:2015 Quality Certified
Whether you need insert molding solutions, high-performance resins, or large part molding with gas-assist, we have the experience and the equipment to make the difference between success and failure. Our presses range from 80-1880 ton Tons. We have both industrial and medical manufacturing divisions.
ISO 9001:2015 Quality Certified
Since 1985, our manufacture has provided our innovative approach to product design for manufacturability, first-to-market rapid prototyping methodology, valuable cost-saving recommendations, and a relentless commitment to quality. From offering assistance when selecting tooling materials (P20, aluminum, hardened tool-steel), recommending processing materials, providing samples, and streamlining prototyping to full production, we can meet your timeline.
ISO 9001:2015 Quality Certified
Our Midwest manufacture is a leading custom blow molder to the OEM markets, founded in 1967. We have 10 blow molding machines ranging from 5 – 50 pound capabilities. We process a wide range of materials, including HDPE, LDPE, PP, Santoprene, and Hytrel.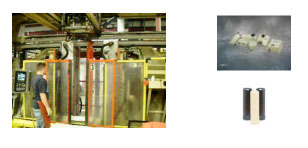 ISO 9001:2015 Quality Certified
Our manufacture has been a leader in the field of manufacturing quality custom thermoplastic extrusions. Our business is 100% custom. We manufacture tubing of all sizes up to 7" diameter and any rigid or flexible profile shape you may need. We have extensive experience in the medical, agricultural, industrial, automotive, and advertising industries.
Custom tubing and profiles often require custom finishing and other secondary operations. Being a 100% custom shop, we provide our customers with a finished custom part. Value-Added Operations include, but are not limited to: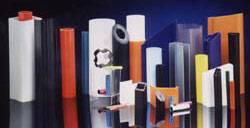 Company Profile - A Global Plastics Group
ISO 9001:2015 Quality Certified
Our manufacture is world-class manufacture of rotational molded parts to large OEMs in agriculture, construction, heavy equipment, transportation, recreational, commercial, and medical industries. We have two locations, WI and NY, ISO 9001:2008 certified with 200+ employees. Our capabilities include; large parts up to 17 feet, foam filling in both rigid and flexible, in-mold labels, and turn-key assembly.
ISO 9001-2000 Quality Certified
Our manufacture is the pioneer in developing the processing technique for ultra-high molecular weight polymer, established in 1866. As a leading converter of UHMW-PE resin, we can supply a variety of shapes such as bars, rods, boards, tape, and custom profiles.
UHMW-PE is highly abrasion resistant with an extremely low coefficient of friction. It has the highest impact strength of any known thermoplastic manufactured today and has the ability to absorb tremendous amounts of energy.
Parts can be manufactured from basic shapes by several machining techniques, including high-speed milling, sawing, turning, and drilling.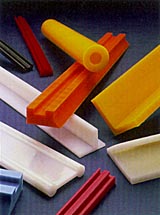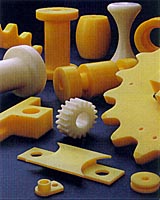 ISO 9001:2015 Quality Certified
We have 4 manufacturing facilities providing composite plastic and fiberglass components to more than 50 OEM customers worldwide, producing more than 100,000 units each year in the medical imaging, industrial equipment, mass transit, heavy construction, agriculture, recreation, commercial site furnishings, therapeutic bathing systems, and corrosion-resistant materials market segments. The company's most valuable asset, its people, exceeds 500 in number. We have 40+ ACMA Certified Composites Technicians (CCT's), more than any other OEM composites manufacturer in the world.
Open Mold: Hand lay-up or spray-up applications. Best processes for low-volume, large and/or complex components – less than 1,000 parts per year.
Closed Cavity Bag Molding: This process allows for inexpensive tooling for low-volume complex components with volumes of less than 1,000 parts per year.
Light Resin Transfer Molding: Vacuum-assisted, closed molded resin infusion process. The process allows for faster production, better tolerances, and thickness control. Best processes for mid-volume production rates, in a range of 500 to 5,000 parts per year.
VRTM: Vacuum-assisted Resin Transfer Molding allows for structurally reinforced parts requiring a two-sided finish. The process allows for controlled thickness and cross-sectional tolerances—a process best suited for moderate to high production volumes – 1,000 to 50,000 parts per year.
RTM: Resin Transfer Molding is a process used when structurally reinforced parts are needed with 2 sided cosmetic requirements. Process best suited for higher volume components from 1,000 – 40,000 parts per year.
RIM: Vacuum-assisted Reaction Injection Molding; this process involves vacuum-formed soft-touch material, with 2 part urethane reinforced structural back. Excellent process for interior cab components. Process volumes range from 500-5,000 parts per year.
LCM / SMC: Liquid Compression Molding and Sheet Molding Compression processes are for higher volume structural parts.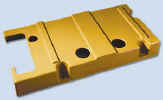 ISO 9001:2015 Quality Certified
Sylvin Technologies, Inc., located in Denver, Pennsylvania, was founded in 1978. Sylvin is a leading manufacturer of flexible to semi-rigid PVC and PVC alloy compounds. Sylvin offers a full line of standard and custom formulations for a variety of applications, such as wire and cable, electrical molding, industrial, and construction. General-purpose grades for injection molding and profile and tube extrusion are also available.
Of particular value to customers is our ability to formulate materials to specific customer specifications. We have an experienced technical staff and a fully equipped laboratory to develop materials to meet a variety of demanding specifications. Whether your specification is for a clear, natural, or pre-colored material, Sylvin is ready to provide the exact flexible PVC compound to meet your needs.
Our mission is to provide our customers with superior customer and technical service. To provide high-quality materials that process consistently, meet specific performance requirements, and are delivered on time at a competitive price.
Sylvin's manufacturing facility operates three PVC compounding lines. Utilizing high-intensity process technology, each compound is thoroughly mixed before being pelletized and packaged. Our computerized process control panels ensure that each batch of material contains the correct raw material in the exact amount every time. Our extensive material process database ensures formulation integrity and lot-to-lot process consistency.
Standard and customized compounds are produced for as little as 50 pounds up to multiple truckload quantities. We have the capability to produce diced pellets for packaging in 50-pound bags or 2,000-pound gaylords. Underwater, face-cut pellets (round) can also be produced and packaged in gaylords.
Through efficient product scheduling and production change over, each production line runs a complete color cycle. From natural, clear through colors, Sylvin has the technology to provide the exact material you want in the quantity you need.
In addition to consistent, high-quality production, Sylvin can develop customized inventory programs to ensure the material you need is available when you need it.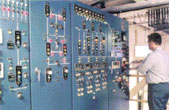 As a world-class manufacturer of plastic components, we can provide our customers with complete project management through innovative engineering solutions. This involves all phases of tooling, part design, to precision molding.
Our company was founded in 1982, with over 100,000 square foot manufacturing facility we are a leader in the Structural Foam industry. Our facility offers molding press capacities of 48 to 1,100 tons. We utilize the latest technologies in CAD software; our designers use ProEngineer, Mold Flow, and Mastercam Software. We offer in-house tooling and mold making for custom designs.
Structural foam offers superior strength to weight ratio. Compared to conventional injection molded plastics, the structural foam is three to four times as rigid as the same weight material produced by conventional injection molding, depending on the resin used. A smooth outer skin encloses the foam core and prevents flex and distortion of the part. Parts engineered with structural foam have good machining qualities and allow variations in wall thickness.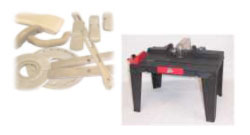 ISO 9001:2015 Quality Certified
Our manufacture, founded in 1976, is a leader in metal fabrication for OEMs. We are capable of any type of fabrication, from simple shear, punch press, CNC press brake operation to sophisticated laser cutting.
Our custom tube bending is done in various radius bends using round, square, rectangular, oval, and special tube shapes. Materials include carbon, galvanized, and stainless steel, as well as aluminum. Processes include; mandrel bending, press bending, and CNC bending in sizes of ¼" to 6" diameter.
Precision CNC-controlled press brakes with 8-axis back gauging along with a large selection of new tooling allows us to handle the most challenging forming requirements.
State-of-the-Art High-Performance Production Sawing allows close tolerance applications. Bundle cutting capacity 18" high by 24" wide with automatic feed via ball screw and NC control for precise cut-off lengths up to 393".
High-Speed Punching utilizing numerous innovations allows sheet metal fabrication requiring contouring, perforating, louvers, extrusions, and tapping.
High Speed 6 axis robotic welding combined with Ferris wheel and turntable style positioners allow us to process a large variety of parts in various sizes and configurations.
Our manufacture has resources available for the following services: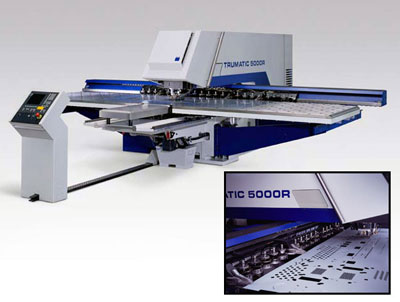 Company Profile
IATF 16949-2016 Quality Certified
TPI is our powder metal manufacturing facility. This facility occupies 24,000 sq. ft. We currently operate with 15 presses (ranging from 5 to 750-ton capacity) and three continuous belt furnaces. Our staff at TPI custom designs tooling, fixtures, gauges, and parts tailored to our customer's specifications. Working closely with our customers in the early stages of design enables the powder metal (P/M) part to be designed in the context of the entire assembly rather than as an isolated part. A lower-cost powder metal (P/M) part can often be achieved through small changes in an assembly.